BEAUTIFUL ART
I bought this watercolor painting and several others from Kristen. They are absolutely gorgeous -- the online pictures do not do them justice! I was so taken with those watercolors that I ended up commissioning both a watercolor and an oil painting. Kristen was very collaborative throughout the process with each, which eased my tiny bit of anxiety with effectively buying art sight unseen. With each commissioned work, she sent me "previews" and tweaked the pieces in process based on my feedback. She was incredibly easy to work with and encouraging in soliciting my feedback to make sure she captured my "vision" for each piece. I have since bought two pieces from her newer series, which are entirely unlike the pieces I previously bought but gorgeous and fun and will add a whimsical touch to my guestroom. My only hesitation in writing this review is that I'm selfishly aware that I may be creating new fans who will compete with me for Kristen's artwork!
Laurel S
I combine my love of travel and art, painting the beautiful places I visit
Welcome! I am delighted to introduce you to my world of art and creativity!
Here you will find a variety of collections of my original artwork. Each painting is meticulously painted with a keen eye for detail, color and design using only the highest quality professional artist materials.

Art can have the unique ability to transform and elevate any space. Investing in one of my beautiful paintings can add visual appeal and bring warmth, joy, and a positive atmosphere to your home or work environment.
I enjoy working with clients to produce custom paintings. Message me with your request and I'll send you a quote.
In addition to my original paintings, I offer a variety of plein-air workshops and sketching classes designed to inspire your creative potential.
My classes support complete beginners to seasoned pro artists. you'll enjoy a relaxed and informative experience no matter what stage you are at in your artistic journey.
To stay up-to-date with my latest artwork, sales, and exclusive discounts, sign up for my newsletter at the bottom of this page.
Follow me on social media to see works in progress, paintings on location, learn about new classes and more.
On Youtube @KristenOlsonStone
On Instagram @KristenOlsonStone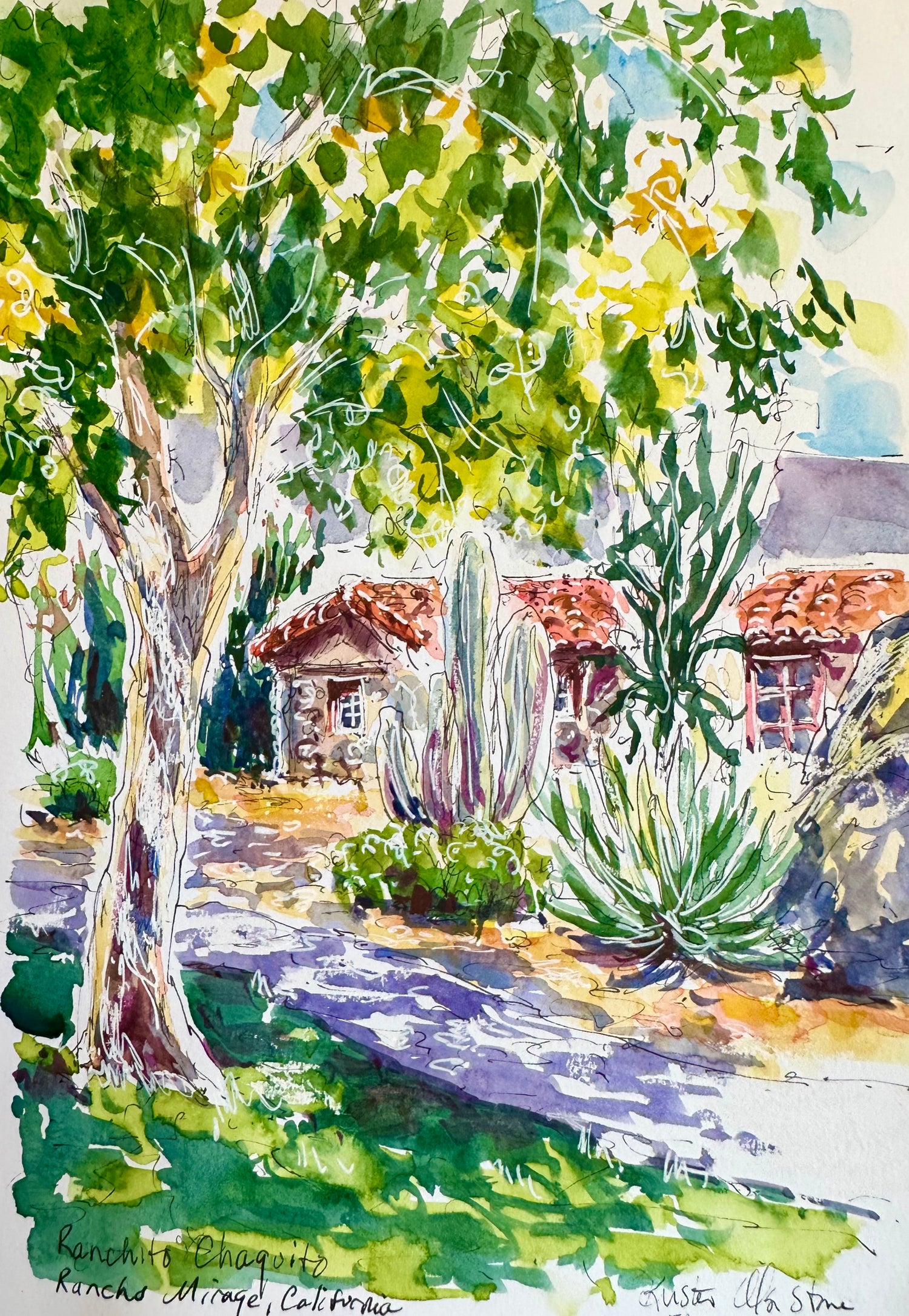 Sketching Classes In Palm Desert and Newport Beach, California
I love to do watercolor sketching! Watercolor sketching is the perfect medium for travel as well as for capturing the beauty of your own backyard!
It is my favorite thing to teach and I welcome beginners through all levels of artists! Click "Sketch With Kristen" to view available upcoming class dates.
You can also take a look at my plein air painting workshops which are open to all mediums as well as all levels of artists.
Sketch With Kristen